Leading with data requires a good balance between a reliable and integrated backbone for information management on the one hand and, on the other hand, flexible and innovative solutions to further shape the digitization of the installation branch. According to Gartner, a bimodal IT framework helps to achieve this balance. We are of the opinion that the framework can also contribute to the digital and business transitions of technical service providers. I would like to further explain this opinion.
Mode 1, Mode 2
Consultancy firm Gartner describes bimodal IT as two separate styles of work – one revolving around reliability and predictability and the other focused on innovation and exploration. The model is also often described as 'Mode 1, Mode 2'. In company processes, Mode 1 often relates to already existing processes that must be adjusted for the digital world, while the more flexible Mode 2 is used to experiment with new solutions for new problems.
Mode 2 applications lie, as it were, above the established IT landscape and can be plugged in – and unplugged – without disturbing the standard processes. A good balance between Mode 1 and Mode 2 applications is generally seen as a digital transformation success formula.
Vision of thinking
We believe that a digital transformation is most effective when it occurs in a pragmatic manner, guided by the principles of integrated process thinking and (installation or asset) life cycle thinking. Four crucial components of this pragmatic approach are an integrated IT backbone (Mode 1), Mode 2 applications linked to the backbone, the 'single source of truth' principle, and reliable connections with various data hubs. But what exactly do we mean by life cycle thinking and process thinking?
Life cycle thinking
Life cycle thinking is increasingly becoming the standard for technical service providers. Life cycle thinking is more durable – a condition which more and more projects must meet – and often it is also the most cost-efficient method of implementing a contract profitably.
Life cycle thinking can be viewed as a box in which information about an installation is kept. Starting with the design phase, this box is increasingly enriched with new data that is needed in the same or subsequent phase. This is how a database of information about an installation or its components is constructed; this database enables a better use of the current as well as future installations.
You may already be busy calculating, for example, Lifetime Costs, with the goal of meeting the circularity requirements of your clients. But is this information you have collected also available in all processes?
Integrated process thinking
As far as we are concerned, integrated process thinking takes place throughout the entire life cycle of an installation. This means that an action such as a purchase is not seen as a software module but as a process. Information about an item, such as a component that is relevant for a project design, is already required in the design phase. This need continues through the management phase, when components must be replaced, for instance.
One example of this is the stated requirement of moving water within an object or installation. To satisfy this requirement, a pump is selected during the design phase based on the functional requirements. Then the specifications of the pump are determined. Based on these and in relation to the desired lifespan, a choice is made for a specific brand or type of pump that is then ordered by the Purchasing department.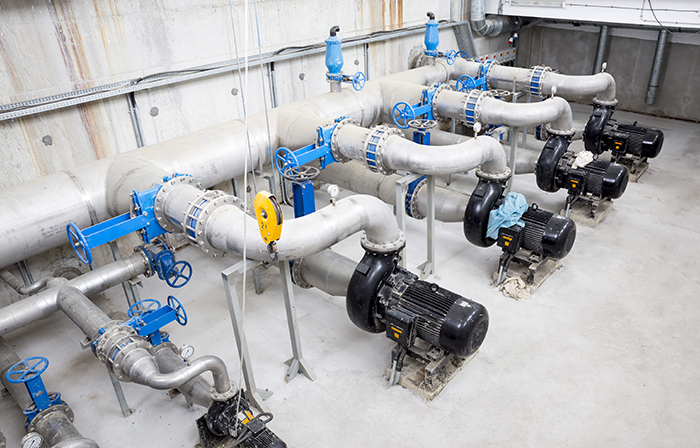 After the purchase of the pump, the Purchasing department remains fully involved with the pump. This is certainly true in the case of long-term management processes, where technical service providers must deal with maintenance costs involving the regular purchase of new components. To keep the purchasing process working as efficiently as possible, it is important to know which components are replaced during standard servicing. This knowledge can naturally be coordinated with the purchasing and inventory policy. Integrated process thinking and organizing make this possible.
Big Data analysis
In general, the process described above and the related data – from a functional requirement to the choice of a pump; from function (moving water) via an object (a generic pump) and item number to purchasing and associated maintenance information – falls within the scope of Mode 1.
In a Mode 2 application, the pump would have sensors that collect 'operational data' for management purposes. The sensors register an immense quantity of information about the pump's performance: RPMs, operating hours, vibrations, etc. When this data is analyzed properly, the application of predictive maintenance is within reach, which adds to the general efficiency of the installation. The process of equipping installation components with sensors, reading these sensors via the Internet of Things (IoT), and collecting and then analyzing these data is not yet a common practice at this point. For this reason, we put it under Mode 2.
And where are these sensor data stored? Usually these data can be found in a database on a remote platform. After all, sensor data are stored differently than the information from the Mode 1 applications. Specifically, they are stored in a 'flat' data table, which makes these data faster to search than a relational database – certainly when in-memory database technology, for example, is used.
It is important that the connection of data and process between the Mode 2 applications and the Mode 1 landscape is easy to realize. At Dimensys, we have a great deal of experience with constructing a sound Mode 1 backbone and making the connections with innovative Mode 2 applications. We are familiar with the specific challenges involved with technical service provision.
Embracing data-driven processes
The digital transformation also offers opportunities for technical service providers. To be able to play a leading role here, they must be prepared to embrace data-driven work processes. But if they do, they will find themselves in a unique situation: With the right transformation partner and the right software, they will be able to transform pragmatically and quickly. SAP is an important player in the installation branch; seven of the top 15 technical service providers work with its software. By collaborating with a party who has both the reliability of Mode 1 and the flexibility of Mode 2 in house, technical service providers can lead with data.
Curious whether Dimensys is the right transformation partner for you, too? Feel free to contact us to discuss the possibilities.
Would you like to know more about how SAP can provide you an environment in which you can manage assets-related information and processes throughout the complete asset lifecycle? Download the whitepaper "SAP Intelligent Asset Management".