---
Geel, May 2nd 2017 - Microsoft recognizes Dimensys as a Gold Partner for its competence Application Development. Dimensys' business unit Dimensys Technical Consultants has been successfully supporting its customers for more than 6 years as a MES-partner in the realization and maintenance of Integrated Manufacturing IT solutions. It is an honor to be awarded with the title of Microsoft Gold Partner, as this title is one of the highest recognitions for organizations offering development services in Microsoft Technology.
---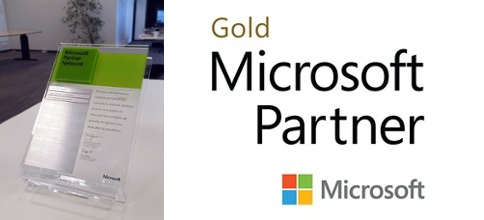 To become a Microsoft Gold Partner, the respective company must be active in the business for at least 5 years. Other requirements are that the organization sells more than 75% of its IT solutions and services to unaffiliated third parties, completes multiple tests, and demonstrates proven knowledge in its field of expertise.
Proven experience and satisfied customers
Earlier, Dimensys was already recognized as a Silver Partner on the competences Data Analytics and Application Development.To achieve this recognition, Dimensys provided several customer references, and four of our colleagues:Evert; Filip; Tim and Ron, obtained their certificate "Application Development competence".
Several national and international customers of Dimensys have provided recommendations for installed applications based on Microsoft technology. ''For instance an OEE-cockpit, a real-time process monitoring tool or an integrated MES / MOMS solution. These solutions enable customers to solve problems quickly and identify product issues to achieve cost savings and quality improvements.'', explains Nik Vandenweyer, Managing Director at Dimensys Technical Consultants.
Being a Microsoft Gold Partner, Dimensys has direct access to additional training, the latest (product)updates and direct support from Microsoft. This partnership ratifies and consolidates the close cooperation between both companies.
About Microsoft
Microsoft is a software company with the mission to help people and organizations achieve their goals, dreams and ambitions. They do this by allowing their technology to work for customers. In this way Microsoft lays the foundation for the success of customers, partners and Microsoft itself.
Every day over 100,000 Microsoft employees from over 60 countries do their utmost to keep their promise in helping everyone - both consumers, SMEs, large businesses and governments - to get the most out of themselves. https://www.microsoft.com/
About Dimensys
Dimensys helps customers in construction, production, chemistry, infrastructure & utilization industries, to achieve operational excellence. Dimensys consultants achieve this in using their many years of experience in Project & Portfolio Management, Manufacturing Execution System (MES) and Asset Management.
Dimensys is a certified Microsoft Gold Partner, GE Premium Solution Provider, SAP Silver Partner, SAP Partner Center or Expertise and SAP Recognized Expertise Partner for various solutions and industries. https://www.dimensys.nl/