---
The companies we help optimizing their production process have one thing in common: the various intelligent systems generate a large continuous flux of data. One of Europe's biggest production companies in titanium zinc had the challenge to reduce production costs. But, where to start? You probably guessed it, with data of course! And how? That is what I am going to tell you in this blog.
---
The production of zinc
The production company produces several varieties of titanium zinc. Semi-finished titanium zinc is being used for roof and facade cladding and for rain water drainage systems. Zinc is supplied in coils or bands. Depending on the request the required thickness is anywhere between 0.3 and 2.0mm and the length varies from several dozens to hundreds of meters. With regards to the thickness a maximum deviation has been defined which applies to all the supplied coils of zinc.
In the final stage of the production process the zinc sheet is flattened, cut in the requested length and checked whether the product meets the set standard thickness. If the product contains too many errors it is rejected. Rejected zinc sheets are melted down and go through the entire product process again.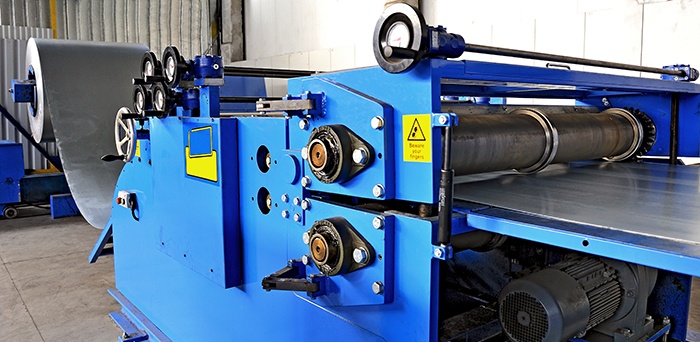 Chances for cost reduction
As you can imagine, reproducing rejected zinc sheets mean extra and fairly high costs. Think about double production costs, personnel and bringing the ovens at the right temperature. Some zinc products, like black zinc, are particularly expensive to produce as they require an extra chemical bath.
But what happens in case of a time issue when there is no extra time to reproduce the product? Or when the mistake is in a length margin; right at the edge where the zinc sheet was cut? The standard production process simply demands rejecting the sheet. As a consequence, the end customer has an unexpected delay of 1 to 2 weeks when roofing or cladding a facade. It also means that zinc sheets are unnecessarily rejected.
What is the real quality of rejected zinc sheets?
Would it not be perfect to eventually be able to approve zinc sheets that have only just been rejected simply because of a thickness error of only 1 micro meter? Especially when producing under time pressure. Fortunately, there is a simple solution for this.
With the help of 2 needles, thickness of the zinc sheet is exactly measured over the entire length. This exposes even the smallest deviations. The data is available but quite often not observable. By visualising the sensor data, the zinc producer is able to reassess the quality of a rejected zinc sheet manually.
TrendWatch: a low-threshold access to your sensor data
Not by coincidence, Dimensys' Technical Consultants department offers an easily accessible solution, namely TrendWatch. This tool, developed in close cooperation with our customers, clearly visualizes production data.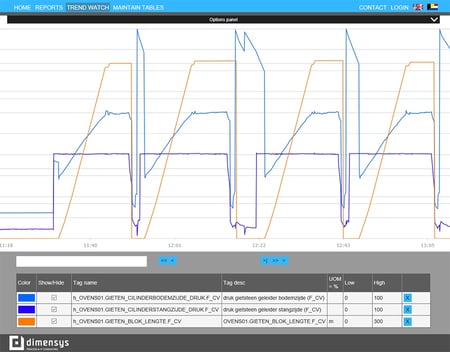 Trendwatch gives insight in the process data when pouring zinc.
With the help of TrendWatch, production managers and engineers can review, analyze and compare production data like thickness measurements. Our customers can analyze root causes of recurring problems, reassess the quality of products that have just failed the standard or follow up the production status in real time and, if necessary, intervene in the process before real issues arise. All to lower the costs.
The result
In this specific case, it was revealed that several zinc sheets were rejected as a result of a marginal deviation that just fell out of the standard. Soon after the implementation of TrendWatch it was revealed that in many cases it is not necessary to melt and reproduce a zinc sheet. The insight in thickness measurements helps the customer to lower his production costs and to simultaneously increase customer satisfaction. Who would have thought?
Would you like to know more about TrendWatch, which features it offers and for which existing data sources it can be used? Or read more about our Manufacturing Execution System services.
Please contact Nik Vandenweyer, Managing Director of Dimensys Technical Consultants for further information. Send us an email or call us and apply for a live demo.