---
Leonardo Da Vinci was an architect, inventor, engineer, philosopher, scientist, anatomist, sculptor, painter and music composer. He is considered to be the prime example of the "Universal Genius" or "Renaissance Man". I.e. An individual who tries to develop all of his skills and potential. SAP introduces SAP Leonardo which enables its customers to benefit from the complete potential of SAP by combining different SAP elements. But what exactly does this mean? In this blog, I will give an overview of the SAP Leonardo innovation portfolio and what's in it for SAP customers.
---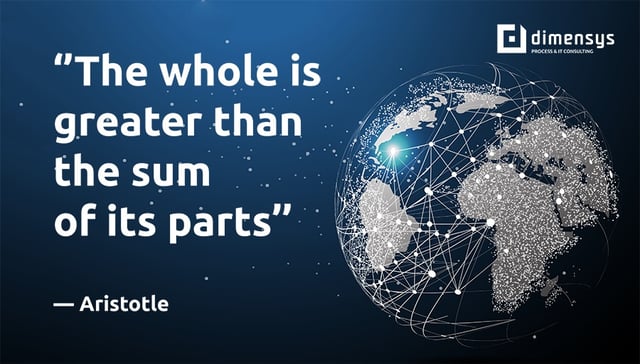 SAP Leonardo is the new brand name for the "Internet of Things" (IoT) innovation portfolio. In other words; a collection of Operation and Information Technologies (OT & IT) that relate to IoT. These joint technologies help to connect Products, Assets, Fleet, Infrastructure, Markets and People. This allows for the complete chain of your company to be integrated and connected; from suppliers to customers.
To make this possible, collecting the (big)data is not the challenge because this is done by the sensors themselves. These sensors continuously create new data that have to be combined with other (sensor)data. Therefore, the real challenge is to connect and analyze this data so that it has a positive contribution to your company. To do this, SAP connects Big Data, IoT, Machine Learning, Blockchain and Analytics. The combination of these technologies will lead to new insights, which may eventually lead to completely new business models.
Components of SAP Leonardo
The technologies described above are supported by the 5 main components of SAP Leonardo: Edge, Foundation, Platform (Cloud & HANA), Applications (Products, Assets, Fleet, Infrastructure, Markets & People) and Bridge.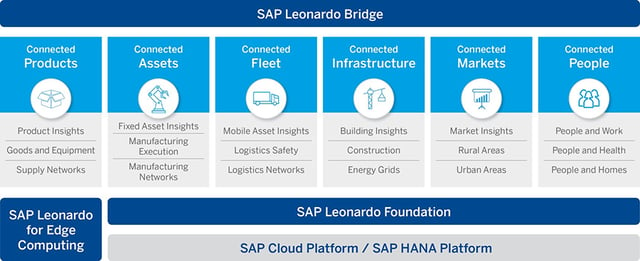 Overview SAP Leonardo
SAP Leonardo for Edge computing
Sensors often do not have the communicative capacity to transfer sensor data in a quick, safe and cost-efficient way to a central storage. Also, the sensors generate an enormous amount of data that can be very difficult and expensive to move around because of energy, time and bandwidth. I.e. data gets accumulated at the edge faster than the network can push it into the core.
A physical Edge Processing device, often referred to as IoT gateway or fog node, positioned between the sensors and the central storage will solve these problems. In addition, SAP released an IoT solution called SAP Dynamic Edge Processing. This combines algorithms, sinking architectures and customized database technology, which enables businesses to process much of their IoT data locally. It reduces the amount of sensor data that has to be transmitted and it also allows data to be turned into insight much more quickly.
To summarize: SAP dynamic Edge Processing enables companies to process much of their IoT data locally.
SAP Leonardo Foundation
The foundation enables you to connect, integrate and manage a large diversity of sensor data. This foundation can be divided into two categories: IoT business services and IoT technical services.
The technical services facilitate the connection to process this large amount of data and to stream analytics and run predictive scenarios.
The business service facilitates the integration of this data by creating digital twins, reusable application services and applying predictive algorithms. Together they form the basis for analyzing the large amounts of raw sensor data.
To summarize: SAP Leonardo Foundation enables companies to ''prepare'' IoT data for usage in apps and reports.
SAP HANA Cloud Platform
The SAP HANA platform is an in-memory platform-as-a-service that enables real-time analyses and real time application development and insight. Users can access the data, applications and services via internet, so that information can always be accessed from any place. Additionally, micro services for machine learning, analytics, Big Data, security, user experience, user management and backend integration application program interfaces are provided.
To summarize: SAP HANA Cloud Platform enables companies to perform real-time analyses, use IoT data in custom apps and take advantage of innovative micro services like machine learning.
SAP Leonardo Applications
Existing SAP applications can be used as building blocks for customer specific IoT solutions. In other words, one or more applications can be integrated, depending on the requirements of the organization.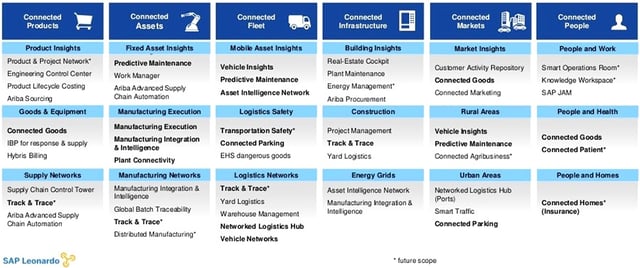 Overview SAP Leonardo Applications
To summarize: SAP Leonardo Applications are standard applications to use in customer specific IoT scenarios.
SAP Leonardo Bridge
The gap between real-time information from connected things on the one hand and the business processes on the other is filled with the SAP Leonardo Bridge. Without this bridge, the information has no real context and thus no real value for your organization. With the use of different applications, dashboards and notifications, you can create this context and make it possible to implement intelligent end to end processes to your organization.
In summary: SAP Leonardo Bridge enables organizations to combine business process and IoT data, to provide the required context for making decisions.
This blog is part of our SAP Leonardo Blog Series. New blogs concerning SAP Leonardo will be posted on a regular basis. In this way, we will deepen this subject so that you can determine what new opportunities it can bring to your company.
Would you like to know more about this topic? Please contact us. Or subscribe to our blogs (mostly Dutch) below.
Ontvang onze blogs per mail