How to fully utilize production data that is constantly expanded by the Internet of Things and Industry 4.0?
The fast- growing number of sensors, intelligent systems and variously connected equipment leads to an enormous and continuous flux of data. The use and analysis of this data doubtlessly plays a very important role in your aspiration for an optimal production process.
Prefab MES TrendWatch has been developed in close cooperation with our customers. This tool helps to visually and systematically display your data, which in turn allows for quick problem solving and identifies production issues with regards to cost effectiveness, quality improvement, etc.
''With the help of TrendWatch we are able to distinguish between facts and suspicions within an hour. This allows us to quickly address any issues and to optimize and speed up the production process.''

Roel Frissen, Manager Operations at Nedzink BV


Dimensys' Prefab MES TrendWatch
During the production process the values of important indicators (such as temperature, acidity, velocity, material thickness) of the product are recorded and preferably saved in an operational data base. With TrendWatch your engineers and managers can easily view, analyze and compare this data. Moreover, this tool can be used to analyze root causes in recurring issues.
Prefab MES TrendWatch can also be used to follow-up on production in real time: Upper and lower limits for the designated measurement points are displayed which allows operators to follow up the production status in real time and, if necessary, intervene in the process before real issues arise.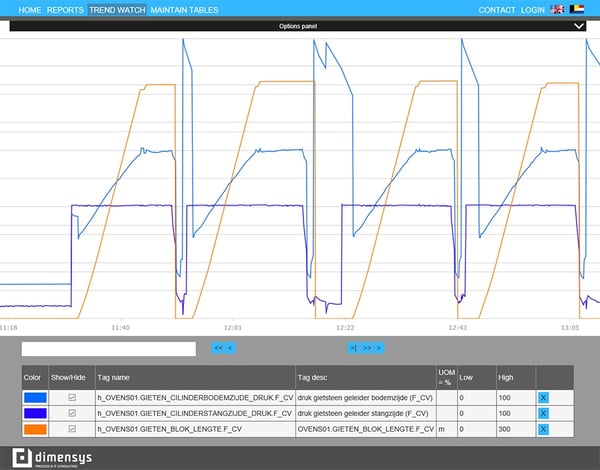 TrendWatch provides insight into the process data when casting zinc.
Plug & Play
TrendWatch can be implemented on the work floor relatively easy: It seamlessly integrates existing sources like operational data bases, (OSI PI, GE Digital Historian, Rockwell FactoryTalk, etc.) as well as relational data bases (Microsoft SQL Server, etc.)
Prefab MES TrendWatch is a web application as well, based on the latest technologies and compatible with standard browsers. This tool does not require any investment in existing infrastructure and can be approached from any work place.
The benefits at a glance
Easy to use;
Clear display of both historic and live processes and product data;
Determining your Golden Batch by layering several runs, even over different production locations if necessary;
Export options to Microsoft Excel for further analysis or reporting;
Extensive set of standard features;
A multilingual application;
Web-based: directly accessible on computers, notebooks and mobile devices such as tablets.

Also read this blog:
Want to know more?
Send us an e-mail or give us a call to request more information or a live demo. You'll get in touch with Nik Vandenweyer, Managing Director of Dimensys Technical Consultants.
Dimensys Technical Consultants is our business sector that offers and maintains integrated Manufacturing IT- solutions. We are a team of true specialists who have years of experience in this field. Our goal is to build a long-term relationship with our customers and help them to translate complex business issues to concrete manufacturing IT-solutions.