Prepare your company for the future by carrying out smart maintenance. The Netherlands and Belgium are currently topping the list of export countries, but several indicators are predicting a weakened position of these countries by 2020. Harder economic times are awaiting us. Maintaining our strong competitive position is thus the message. By carrying out smart maintenance work, efficient and effective profits can be generated. Catching up with optimizing your maintenance is easy. In this blog, I am discussing making a profit by carrying out smart maintenance.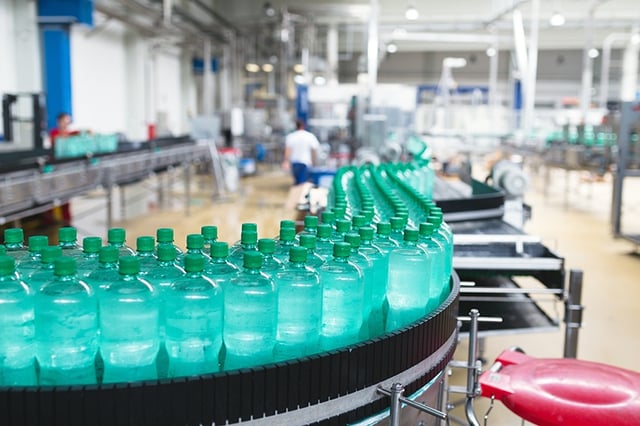 The Netherlands and Belgium: a rose-colored future, or maybe not?
The Netherlands and Belgium are front runners within global trade. However, several indicators set up by, among others, the World Trade Organization, are predicting a less bright future. This calls for measures to be taken.
At the moment, these countries occupy a 5th (with an export value of 560 billion US $) and 11th (with an export value of 395 billion US $) position in the top-20 of export countries. But will it remain this way? The GNP per capita is placing The Netherlands and Belgium at the bottom of the ranking in terms of productivity by the end of 2020. And the high production costs -which is amongst the highest 30% of all export countries- will force consumers to buy their goods elsewhere.
Measures to maintain current competitive position
To remain competitive in the future and to keep investments here, it is important to take action. These actions are often, mistakenly, profit-based initiatives. Companies in the food industry for instance, frequently try to increase their margins by introducing new products whereas chemical companies try to find new sales territories for their chemicals.
What is omitted all too often and too easily, is to critically assess one's own processes. It makes sense to either effectively increase the production process or to lower the costs. Did you know that your maintenance department plays an important role in both? This is advantageous as your own organization can control the maintenance costs, in contrast to labor and resource costs.
Within the entire group of production costs, maintenance takes up a large sum. The higher the maintenance costs -including labor and resource costs, consequential damages and down time costs- the higher the total production costs. The main goal is to keep production costs as low as possible. The cost optimization of maintenance work therefore needs to be pursued.
Cost optimization of maintenance
Cost optimization is reached by carrying out smart maintenance. This is done by making a careful consideration between corrective and preventive (time based, condition based and predictive) maintenance. We do not want to carry out too little maintenance (under-maintenance) but we equally do not want to overdo it (over-maintenance).
When carrying out smart maintenance work, we determine the right strategy for every asset. We bear in mind the criticality of the assets, set up risk matrices and FMEA's (Failure Mode and Effects Analysis). Thus, by carrying out targeted and balanced maintenance work, we save costs and your organization will be working more effectively and efficiently. This makes maintenance a tool to become a more competitive power; something which is also discussed in a recent research report of World Class Maintenance (WCM).
WCM presents itself as one of the biggest networks for the development, spread and application of maintenance knowledge with Dimensys as relevant partner.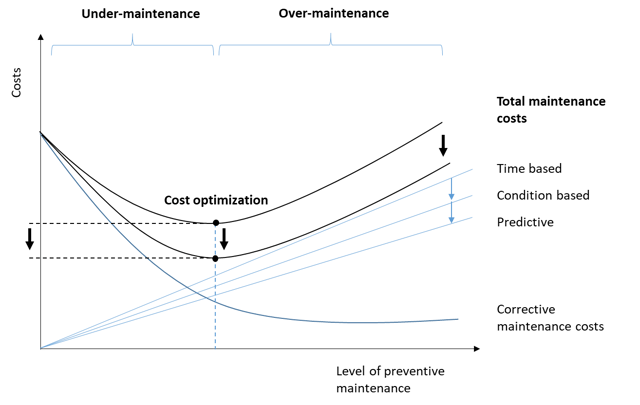 Image: Determine the cost optimization of maintenance.
Some possible maintenance strategies are:
Corrective maintenance strategy: Maintenance work is not undertaken until a system displays an error or fails. This is called under-maintenance.

The consequences are increased risks and costs for the organization. Think about failure of critical assets. This causes a huge downtime for equipment- with high production losses- and high repair costs. Because of a low machine availability and OEE (Overall Equipment Effectiveness), the organization cannot act as a reliable partner for its customers.
Time based maintenance strategy:

Maintenance work is carried out periodically and not postponed until an error occurs. This is known as a "better safe than sorry strategy".

By checking the systems at regular intervals, a higher OEE will be achieved with less production loss. This strategy does entail the risk of over-maintenance, which in turn leads to higher maintenance costs.
Predictive maintenance strategy

: By predicting when an error occurs, (by means of in-process sensors, big data and machine learning algorithms) maintenance is even more purposefully executed.

This ensures maintenance is conducted when it is absolutely necessary, with a corresponding cost reduction. This is also the best strategy for prolonging the asset's life cycle and allows you to benefit from maximum financial return. This is possible by an increased insight in one's own equipment, which in turn allows for the ultimate cost optimum.
Read more about maintenance strategy (in Dutch) >
What is to gain from smart maintenance work?
Optimizing efficiency and effectiveness of the production process and the maintenance department by choosing the right maintenance strategy will help to brighten up the future of Dutch and Belgian production companies. Determining the right maintenance strategy and more targeted maintenance work will allow for a significant lowering of maintenance costs as well as the total production costs, a maximum production uptime and minimal production losses. This keeps your organization internationally competitive.
An investment in smart maintenance techniques is usually quickly turned over. It also ensures the quality of the services and the end products. Customers are offered a high reliability and a service to count on. Building a good reputation is an intensive process that can be destroyed within seconds. Minimize this risk by performing smart maintenance.
Read these articles too!
Are you curious to find out which maintenance strategy is smart for your assets? Please contact us here.