Construction company implements Dimensys' Prefab SAP S/4HANA
Den Bosch (NL); June 26, 2018 – Together with its partner Dimensys, the Jan Snel Group has laid the foundation for future growth. The two partners replaced an outdated ERP system with Prefab S/4HANA in just five months, a record.
With more than 320 employees and EUR 125 million in sales annually, Jan Snel has become the Benelux market leader in flexible construction. The company realizes flexible housing for the care, education and industrial markets, among others. A leading example is the Amsterdam student complex Ravel Residence, which was completed in approximately 10 months. This building consists of 800 student residences, a restaurant, a study space, a dining room, a library and laundry facilities.
Ambitious goals
The objectives set for the coming three to five years are ambitious. Jan Snel is striving for annual sales of EUR 200 million and is aiming to become the market leader in Western Europe. To be able to realize these goals, however, Jan Snel had to make some changes in the area of IT. An outdated ERP environment, among other hindrances, stood in the way of further expansion.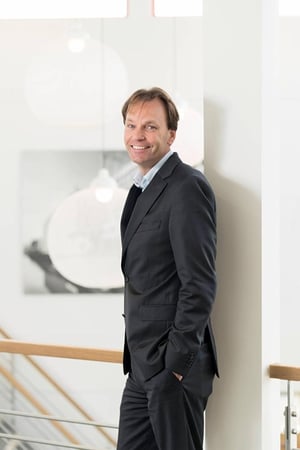 "Inventory information, for example, was located in various systems. As a result, it was difficult to quickly obtain information," relates Richard Brinkman, Chief Financial Officer at Jan Snel (photo, left). "If an employee in Montfoort needed a door, that person called the Hulst location to ask if they had a door in stock. For our projects that are increasing not only in numbers but in scope, this situation was no longer acceptable. We needed to have more control over the business."
Prefab SAP S/4HANA
The builder contracted Dimensys for the replacement of the ERP environment with SAP S/4HANA Baseline, supplemented with Dimensys Prefab SAP software and best practices. With these products, Jan Snel has an integral standard solution based on the years of experience Dimensys has in the construction sector.
Brinkman explains: "Just like us, Dimensys is a non-nonsense club with an approach that is a good fit for a construction company. Moreover, Prefab SAP S/4HANA proved to coordinate well with a great deal of our business. The software and best practices developed by Dimensys for service, project and rental management, among others, offer precisely what we need to manage the business well."
Fast implementation
After selecting the proper solution, Jan Snel set a tight deadline; the process from proof-of-concept to commissioning would only be allowed to take five months for the six locations. "I'm quite proud of the fact that we finished by the tight deadline," declared Brinkman. According to the CFO, the quick go-live was due to several success factors. He provides several examples:
1. Focus on uniformity
"The Prefab SAP Baseline offered by Dimensys and SAP was suitable for at least 80% of our processes. Then you have to remind users that, from then on, they may not deviate from the baseline, and that custom work is only permitted if it can't be done otherwise. If custom work was nevertheless required, it was quickly acted upon due to the good interaction between the consultants and users."
2. Involve the users
"Although we received much help from Dimensys, we have also consciously opted to do a great deal ourselves, such as the coordination of the test sessions. Users were involved with the project at an early stage, so they got to know the system. This results in a high user acceptance."
3. Stick to a tight schedule
"By setting a tight deadline, everyone feels the pressure to get working – on correcting the data, for example. We also quickly had a test environment ready where users could practice using the new system. If the deadline is a year away, no one worries about it and other things, such as sales, take precedence."
Peter Kleinjan, a partner at Dimensys, observed: "The approach used suits the 'can-do' mentality that typifies Jan Snel. They now have better internal business operations, more control and better insight into their performance. With these improvements, Jan Snel is ready for further growth."


About Jan Snel Group
Jan Snel Group BV is the market leader in the Benelux for modular construction solutions. Jan Snel is specialized in permanent and semi-permanent housing for residential, care, office, school and industrial purposes. In doing so, it offers customers both sales and rental solutions. By applying modular construction principles in which protective production is used, especially in the factory, Jan Snel can improve quality and quicken the building process while also providing a significant contribution to the sustainability of the construction through re-use.
Would you like to know more about how you can replace an outdated ERP system with Prefab S/4HANA? Feel free to contact us to discuss the possibilities for your own ERP system.
Are you curious about how SAP can provide you an environment in which you can manage assets-related information and processes throughout the complete asset lifecycle? Download the whitepaper "SAP Intelligent Asset Management".