November 10, 2020 – Minit, a Process Mining vendor, and SAP Partner Dimensys enter a strategic partnership to increase effectiveness in providing Process Mining services and, thus, help their customers optimize operations.
Value-Enhancing Partnership
Process Mining technology enables organizations to easily maximize the use of their enormous process data collection, providing them with insights into their daily operations Bundling of Minit's software and Dimensys' SAP expertise will provide customers in the Benelux region with a powerful service in the field of data-driven process optimizations.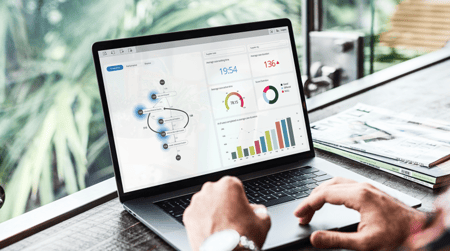 Alexander Haas, CEO Dimensys, commented on the new partnership:

"This collaboration is an excellent fit with our promise to deploy assets better, more accurately and more effectively. Our expertise in the fields of Projects and Maintenance is essential to translate the insights provided by the Process Mining technology into performance improvements."
Rasto Hlavac, CEO and founder of Minit, added:

"We are enthusiastic about empowering more businesses with the Process Mining technology in the Benelux region with such a strong partner as Dimensys. The insights provided by our solution and Dimensys' expertise will lead enterprises to better-informed decisions, resulting in improved operational efficiency."
Process Mining
Most enterprises are confronted with a gigantic amount of process data. It goes without saying that this data is of indispensable importance for the optimization of their daily operations and better decision-making. Process Mining takes this data from IT systems and helps organizations visualize and analyze their business processes, leading to improved transparency and process optimization. To find out which data to retrieve from the systems, Process Insight methodology is the right way to go.
Process Insight Methodology
Together with Minit, Dimensys has developed a unique and successful Process Insight methodology. It provides organizations with a clear insight when determining the factors influencing organizational elements that are decisive for achieving company's strategic focus points.
If data is the new gold,
Process Insight ensures that a company
digs the right mine
The added value of Process Insight lies in the combination with Lean Six Sigma, the management strategy by which the quality of production and administrative processes can be improved step by step. With the method, Dimensys provides a data-driven way of process optimization to its package of services.
About Minit
As one of the leading market providers of Process Mining solution, Minit helps businesses transform the way they analyze, monitor, and optimize their processes, helping them uncover opportunities for continuous process improvement and higher operational efficiency.
Minit believes that every organization can achieve digital transformation and operational excellence. Through its solution, the company inspires stakeholders to take action and explore the benefits of the Process Mining technology for their organizations. Minit provides its Fortune 500 customers as well as other businesses with complex processes with a unique experience, highly added value, and competitive insights to help them run efficient organizations. Visit www.minit.io to learn how to achieve seamless processes in your company.

About Dimensys
Dimensys makes the life cycle of assets and products transparent, predictable and repeatable, enabling organizations to use their assets better, more accurately and more effectively. With years of experience in Project & Portfolio Management, Manufacturing Operations Management (MES) and Asset Management, the company helps customers achieve operational excellence in their business processes. With a team of 150 colleagues, Dimensys supports companies that focus on construction, production, chemicals, infrastructure and utilities in realizing their business objectives.