The Synchronization Task Force improves existing data, provides immediate processing of data updates, and secures new data input.
Railway manager ProRail wants to know exactly which materials are being used where on the railroad – right down to the screws and bolts. Such information makes it possible to start up new projects more easily, predict maintenance needs and perform repairs more quickly, among other benefits. In order to realize this goal, the data must be of extremely high quality. And there's still room for improvement here. The job of the Synchronization Task Force – of which Dimensys is a part – is to raise the level of data quality.
In a 2013 report from the Human Environment and Transport Inspectorate (known by its Dutch abbreviation, ILT), ProRail was deemed to still have too little insight into the state of the railroad infrastructure. According to the Inspectorate, this lack of insight resulted in poor maintenance and potentially unsafe situations on the tracks. The report was an important motivation for a great number of improvement initiatives, including those concerning data.
Peter Franken, Manager of Configuration Data at ProRail Asset Management, notes: "We record all infrastructure data in SAP. With 7,000 kilometers of track, 430,000 documents and 740,000 objects (with a total of 32 million features), that is quite a challenge. For proper maintenance, it is important for the digital situation to reflect reality as much as possible. We aim for 100% agreement, but we continuously find ourselves stuck at a lower level. The quality of our data must become better. That's why we have established the Synchronization Task Force." The Task Force consists of various experts from ProRail and external parties who will jointly raise the level of data quality.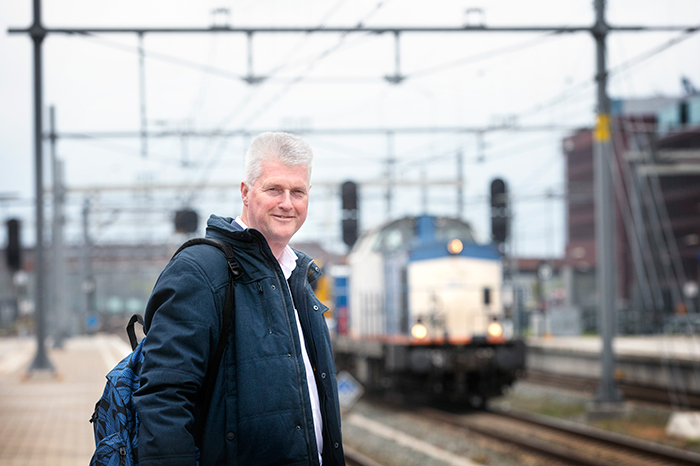 Peter Franken, Manager of Configuration Data at ProRail Asset Management
Why Dimensys?
Young people, critical questions
"Dimensys has been playing an important and successful role in the digitization of ProRail for years," says Franken. "But it wasn't just that. We really had a need for people who could look at our world differently, beyond the existing situations and systems. The people at Dimensys can do that. There are young people there who ask critical questions, such as: 'You want to go right, but isn't left better?' We really needed that approach with this complex problem."


Approach and solution
Towards better data quality with a strong backbone
ProRail's mission was clear: Improve existing data, easily process data updates in the database, and secure the quality of new data.
"To realize this, we started with three main objectives in intelligence asset management," relates Leon Le Blanc, Process & IT Consultant at Dimensys. "It's increasingly about combining, sharing and collaborating on data – as well as predictions and simulations. At ProRail, we have combined data from various domains. Additionally, Project Backbone makes sure that the data exchange between ProRail and maintenance contractors occurs in real time. This enables ProRail to focus on predictions and simulations."
"The ProRail Unique Identification Code makes communication between our employees and external parties more efficient"
Franken details this approach: "Together with Dimensys and other parties, we have initiated several projects in order to achieve our mission." One of those is ProRail Unique Identification Code (PUIC), in which ProRail works on the improvement of the existing data in relation to the infra data and the geographic systems. "PUIC ensures that each component on the tracks – such as a switch – receives a unique identification code," and thus can be found in every system, says Franken. "This way, it's easier for us to find parts in our database. It also makes communication between our employees and external parties more efficient, because they will be talking about the same components."
Want to know more about how Dimensys and ProRail are realizing the mission? Watch the video:

Link between the data systems of ProRail and its contractors
Thanks to Project Backbone, the communication relating to data updates is no longer a problem for ProRail. Franken explains: "By far, most data transactions are the result of contractors' projects. In the past, these parties supplied the new data after completing the project, and then we processed the information in the systems. But that didn't work well; contractors like to build, but they are no data farmers. That's why we decided to focus our energy on the front part of the process and make sure the data are already correct when they enter our system during the project."
Project Backbone links the data systems of ProRail and the maintenance contractors. "Synchronization occurs continuously, so maintenance and project activities are immediately processed in our system," continues Franken. "When our employees implement changes, the contractors see that in their systems. So, they benefit as well! This completely changes our work relationship. First, we kept talking about differences and conflicts with data; now we really look for ways to collaborate. We discuss differences in data with each other and we solve them together."
"Now there is continuous synchronization between our system and contractors' systems"
Lastly, a start has been made with the Validations project, which aims to ensure that new data are entered correctly by ProRail employees or contractors. Franken explains: "Now there are previously set validation rules with which the new data must comply. If the data is not correct, an error message appears. In this way, we monitor the completeness of our database."
The solutions at a glance
Unique identification codes link the various data systems;
A link (Backbone) between the SAP system and the contractors' systems ensures immediate processing of data updates;
Validation rules monitor the quality of new data input.


Results
Predictive maintenance, smoother bid processes, and cost savings
The Synchronization Task Force is still very busy with the immense job of ProRail's data quality. When the data agree 100% with the actual situation, Franken expects considerable results. "Now we conduct maintenance partly based on disruptions," says Franken. "We only take action when something is broken. But that's not a desirable situation, because rail traffic has then already come to a standstill. With high-quality data, predictive maintenance is possible – we can predict when maintenance is needed before something breaks down. This helps us to drastically reduce the number of railroad incidents. For the first time, we expect to be able to prevent a disruption this year based on data analysis."
There is also increased efficiency in the actions concerning new projects and bidding processes. "For example, we currently still organize viewing days for contractors to supplement the infra information provided," says Franken. "That is expensive, because it requires a lot of time. Once the data is perfect, that will enable contractors to bid based on reliable data." And finally, good data quality saves a great deal of money. "The costs of failure currently amount to many millions of euros per year because our data is not good enough."
The work of the Synchronization Task Force is already paying off. External audits show that the quality of the data has improved significantly. Franken soon expects a first region to show 99% data quality. As Franken says, "It's great to see that the escalation in 2013 eventually led to a significant improvement of the data quality and good collaboration with the contractors in this area."
Would you like to improve your data quality and collaboration with the contractors? Feel free to contact us to discuss the possibilities with the Synchronization Task Force.
Are you curious about how SAP can provide you an environment in which you can manage assets-related information and processes throughout the complete asset lifecycle? Download the whitepaper "SAP Intelligent Asset Management".