SAP introduced SAP Commercial Project Management (CPM) in 2013. Since then, increasing numbers of Dutch companies that work on a project basis have adopted the product and, with the SAP S/4HANA release 1709, it has even become one of SAP's basic functionalities. SAP CPM promises to give project controllers and project managers one single source of truth, and thus make projects more predictable and worth repeating. But can SAP Commercial Project Management deliver on this promise?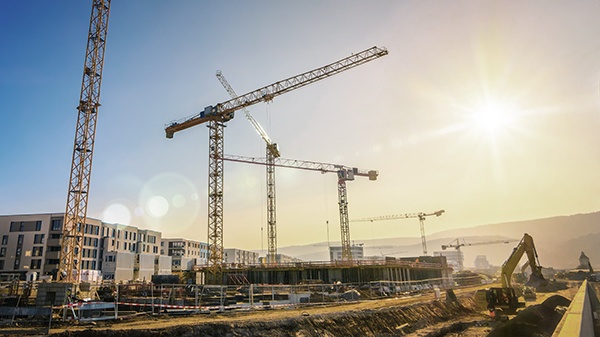 Several months ago, a team of colleagues from Dimensys along with its client (and also an end user of SAP CPM) visited the headquarters of SAP in Walldorf (NL). Here Martin Effenberger, Senior Director of SAP CPM at SAP, gave a demonstration of the latest innovations found in SAP Commercial Project Management (CPM).
As one of only a few SAP partners, Dimensys has a unique implementation experience with CPM. Using our knowledge and experience, we would like to assist you in the exploration and possible implementation of this robust solution.
Integrated approach of the life cycle
SAP has developed SAP Commercial Project Management (CPM) especially for companies working in the professional services, construction, infrastructure, mining, and oil & gas industries. The fact is, these companies have one thing in common: Managing projects, assets and plants has become increasingly complex, which increases the risk of failure costs. The only way to mitigate these risks is to use an integrated approach to the life cycle of the asset, plant or project.
How can you make sure that different roles and departments all have the same view of an asset, project or plant's status – one 'single source of truth'?
Naturally, SAP offers solutions that allow all departments – from Finance, Sales, and Project Management to Purchasing – to work together in one system. The disadvantage of these different modules, however, is that each department has developed its own (project) reports and thus looks at a plant, asset or project from its own position.
To make projects predictable and repeatable from a financial and operational point of view, SAP offers Commercial Project Management. In CPM, users view the plant, asset or project from one input.
One single source of truth
Using SAP's Commercial Project Management solution, organizations can manage projects comprehensively – from commodity to customer and from lead to cash. All activities relating to a project – from sales, planning and execution to monitoring & controlling – can be conducted and managed using just one solution. This results in one single source of truth in a project for all those involved, from operational staff to the management level.
All projects are planned, carried out and managed from just one input. Consider SAP CPM as having a helicopter view over projects. Commercial Project Management from SAP consists of 3 components:
Project Workspace
Project Cost and Revenue Planning
Project Issue & Change Management
Project Workspace is a cockpit that allows organizations to view real-time issues such as commitments, expenses, expected revenues, invoice status, payments and booked receipts at a glance.
With Project Cost and Revenue Planning, organizations can plan quantities, costs and revenues in a protected Excel environment using integrated planning.
Project Issue & Change Management is used to record project issues, change requests and the impact on costs and/or revenues, and to follow up via workflow management.
Lastly, CPM also offers an extensive Risk Management Tool to record and monitor the risks and mitigating measures.
Benefits
One single source of truth, for both Project Controllers and Corporate Financial Controllers
Real-time reporting for project management and forecasts
One fully integrated solution with the backbone ERP system
Commercial Project Management is part of the SAP S/4HANA core
As of SAP S/4HANA release 1709, SAP Commercial Project Management is part of the core and thus a basic functionality in SAP. This means that this module does not need to be installed separately as an add-on and that the functionality is automatically upgraded with SAP S/4HANA. The result is a reduced technical complexity and lower management costs. Organizations that are still working with an older version of SAP can also install SAP CPM as an add-on.
Last week, SAP launched a new SAP Commercial Project Management Community with relevant SAP documentation and a blog by Martin Effenberger, among others.
Want to know more? Contact us.